For the last week, I have been on Zoom non-stop for 4 hours a day.
Since everybody on my team works in a different country, it's hard for us to hang out under the 2020 world order. Usually, we'd fly to some exotic location to eat on the company dime work hard, but that is not possible. So we elected to meet over Zoom during a Remote Meetup.
It was quite a ride, but I have to tell you – Zoom Fatigue is real. I was exhausted. Meetup, however, was a stellar success. I promise to share a playbook so you can have a peek on how professionals (just joking, there are no adults here) do it or even repeat our mistakes.
For now, I'm gonna try to limit my screen time. Here is a picture of Manatees eating sweet potatoes – their favorite autumn snack: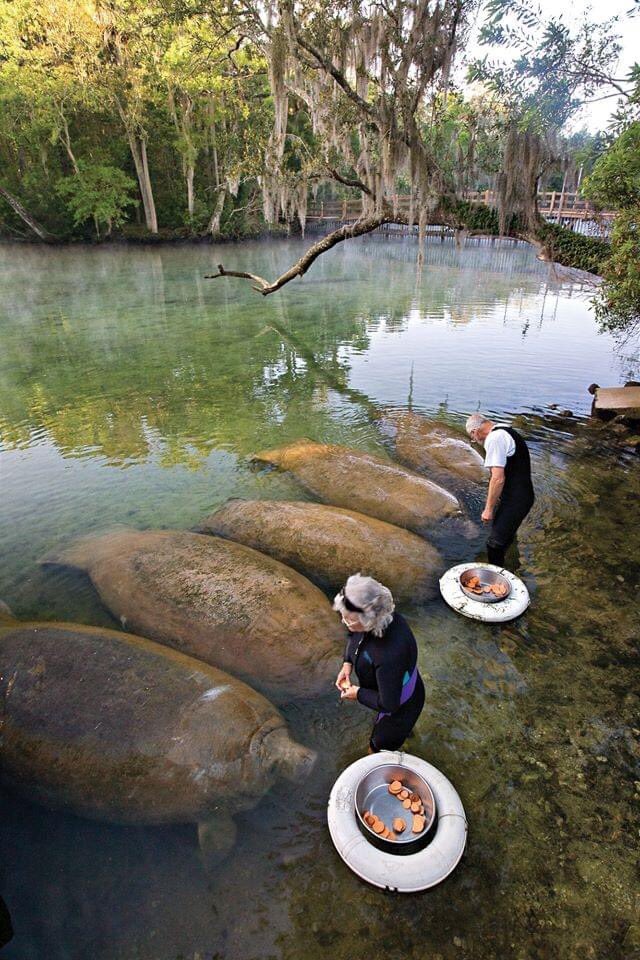 A few years ago I got to meet the "Cows of the Sea" (this is how Manatee translates to Polish) during my travels in Florida. Oh, I miss real meetups.
Three surprising consequences of the Internet
Last week, a "game" on Twitter exemplified the biases of Artificial Intelligence models in a hilarious way.
When you post a really tall image on Twitter, the "Artificial Intelligence" (really a machine learning model, but I'm simplifying) tries to crop an image to space it has available. It tries to detect the "most valuable" place in the pic. Somebody had an idea to put 2 images at the ends of a very long "empty" canvas, to see which one would it choose, thus uncovering the bias.
Predictably, white men were picked more often than any other group, with some… quirks.
Search for "Testing Something" on Twitter, to see for yourself.
Build Personal Moats
A lot of successful businesses have "moats" – a barrier that is hard to cross by a competitor. In the article, Eric Torenberg advises finding a "personal" moat – a unique quality that will differentiate you from other people. You don't have to be "super good" at it – it's better to aim at a unique intersection than will bring you joy. I dug up a question from there that I stored in my Question's vault:
"If you were magically given 10,000 hours to be amazing at something, what would it be?"
The Attack of the Civilization-State
This fantastic article about the cultural expansion of China made me realize, that we have a different concept of a "state" in the west. And we – of course – use that framework to judge all the other countries in the world. But it's not the only yardstick around.
It is remarkable, when one thinks about it, that every controversial issue being decided in a successful democracy such as India should be subject to a final determination of its legitimacy by Western political and intellectual authorities. No one seems to take seriously the possibility that an editorial in The Hindu could settle the issue, but the leading newspapers in New York, Washington or London gladly take up the task. Cultural assimilation meant political dependence.
Sign up to get Deliberate Internet straight to your inbox